Some of the best Halloween Makeup Ideas for the Halloween season.
With Halloween at our door step its really time to dish out some of the best Halloween Makeup ideas that we have ever seen.
Kim Fashion
participates in various affiliate marketing programs, which means we may get paid commissions on editorially chosen products purchased through our links to retailer site
Not everyone will be a makeup artist but that's why we have these Halloween makeup ideas, so we can try them out for our selves.
1# Heart makeup Ideas For Halloween
Halloween Is not only for the Spooky but cute makeup is also a thing and with this heart makeup the cuteness never stops.
I Just love how the heart shapes looks and the beautiful red colors and lipsticks looks amazing as well.
With all these great makeup ideas ill leave this awesome makeup palette so you can use it practice your idea before Halloween. Makeup Palettes
2# It Halloween Makeup ideas
It wasn't all that scary to me but the look have become so popular that I will be going as the female version this year.
Mostly because I love the look and the makeup and costume will always look amazing.
These or a few of the best It Halloween makeup I have seen, but because of how Awesome the Makeup idea looks I made a list, so you can try different ideas and styles.
Its amazing how the red and black hairstyle just brings off the makeup look.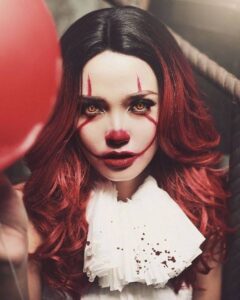 Red and Blue just got better with these lovely twin tales, just another unique look.
and its also very cute.
Things Halloween It Makeup doesn't have the full clown look but it has the red nose and red marks with the beautiful brown eyes.
With the clown craze happening in the world its great to have more unique ideas to try out and this makeup look is one of the best I have seen.
Scary Scarecrow Halloween makeup
If you have ever seen a scarecrow at night you know just how scary they can be, so try out this scary Halloween idea
Another beautiful Half Clown Halloween Makeup idea that will give you an awesome spine to try out
Mask Makeup Halloween ideas
I cant make up my mind if this idea is cute or scary but it looks amazing either way.
Its crazy just how beautiful and cool some ideas can look. but this mask idea can be implemented in so many ways.
Cows are majestic creatures, so why wouldn't you want to be a cow for Halloween.
Check out things beautiful example of what a great makeup idea could look like.
Some Makeups or just so realistic, you cant imagine but I cant get over how amazing well these buttery fly wings look.